The Hurst Dual/Gate shifter, also known as the "His and Hers" shifter, was standard equipment for the Hurst/Olds performance package. The proven Hurst automatic shifter was mounted in an Oldsmobile sports console. Dual shift patterns provide the ultimate in street/strip control. It's strictly automatic on the left side and as precise as a fully sychronized manual control on the right. Hurst's positive latching mechanism and Neutral lock-out takes the guess work out of gear changing, going up or down. There's no possibility of missing a gear. No chance of overshifting into Neutral and maybe blowing an engine. It means you've got a real choice. You can be as shiftless or as energetic as you like. You can rely on that brain beneath the floorboards or you can trust your own reflexes. The lady of your life can drive automatically, while you remain boss of the block with the manual control. The Hurst Dual/Gate also come with a lifetime guarantee.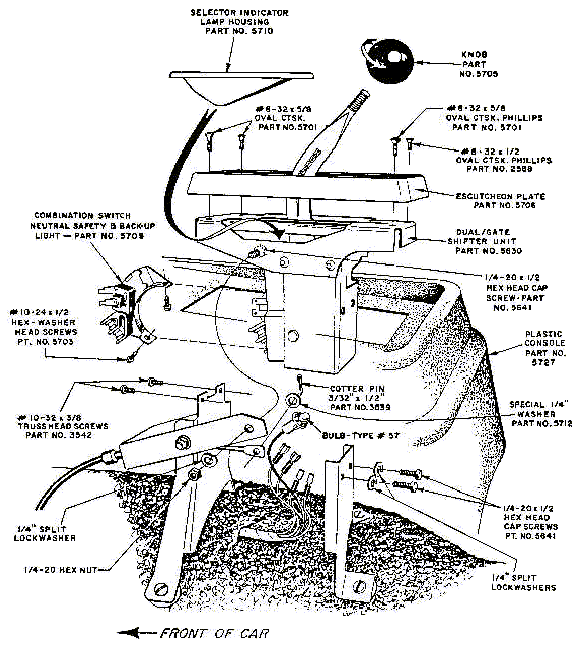 Removing & Replacing The Hurst Dual/Gate
1. Disconnect car battery.

2. Remove Knob. Remove four Phillips head screws that hold escutcheon plate down to console.
NOTE: SHORT SCREW IS USED IN REAR RIGHT - HAND HOLE. Remove escutcheon plate and console from floor tunnel.

3. Lift selector indicator lamp housing out of shifter and pull bulb socket out of lamp housing. Disconnect wire connectors from combination Back - up light / Neutral safety switch.

4. Remove two 1/4 - 20 x 1/2 hex-head cap screws that fasten Dual / Gate shifter to rear mounting bracket. Remove 1/4 - 20 x 1/2 hex - head cap screw that holds cable bracket to shifter frame. Remove two #10 - 32 x 3/8 slotted head cap screws that fasten Dual / Gate shifter to front bracket. Free shifter from cable by removing cotter pin and washer.

5. Remove combination Neutral - safety / and Back - up light switch. Install switch on Replacement unit.

6. Install replacement shifter unit in reverse order of removal of original unit.

7. ADJUST CABLE: SEE FIGURE 1 (Below)
Loosen nut that fastens cable pin to transmission control arm. Loosen nut enough to allow pin to slide in the slot in the arm. Turn the arm to NEUTRAL position. Move the stick to NEUTRAL. Tighten the adjusting nut. Test movement of stick and check to be sure that stick positions agree with transmission control operation.

8. SEE FIGURE 2 (Below)
Connect car battery. Apply hand brake. Move stick to NEUTR AL position. Press foot on brake pedal. Start engine. If starter fails to operate, Neutral Safety switch must be adjusted. Adjustment is made with a long-bladed Phillips screwdriver through the "Street" gate. This screw is directly in front of the st ick. Turn the screw about 1/2 turn past the point where starter operates. (STICK MUST REMAIN IN "NEUTRAL" WHILE ADJUSTMENT IS MADE). Starter should operate ONLY when stick is in PARK or NEUTRAL position.