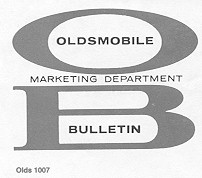 TO ALL OLDSMOBILE DEALERS

All new for 1979 is a W-30 Hurst/Olds Performance Package available only on the Cutlass Calais (K47) with exterior colors white (11) and black (19). This option features W-30 identification, 350 4 bbl. V8 engine (L34), attractive gold accent stripes, and gold painted treatment on grille, pillar, hood and top.

Special Appointments:

-- Hurst/Olds shifter and console
-- W-30 decals on front fender (gold)
-- special gold accent paint scheme
-- black or white rear window molding
-- gold painted grille
-- gold taped pillar
-- black or white tail lamp bezel to match body
-- Hurst/Olds side emblem

Equipment Included in Package:

-- L34 - 5.7 liter, V8, 4 bbl. engine (350 CID) (Available only with W-30)
-- MX1 - automatic transmission
-- GU2 - 2.73 axle ratio (Federal)
-- GM8 - 2.56 axle ratio (California)
- no optional axles available
-- Y71 - paint scheme (gold only)
- aluminum sport wheels (gold only)
-- D35 - sport mirrors (gold)
-- QFV - P205/70R14" raised white letter tires
-- JL2 - power front disc brakes
-- N41 - power steering
-- UE8 - electrical digital clock

W-30 Hurst/Olds Package..................M.S.R.P. $2,054.20

Also Included as Standard Equipment on Calais:

-- contour reclining front bucket seats
-- ride and handling package
-- custom sport steering wheel
-- wide bright rocker panel and wheel opening moldings
-- belt reveal moldings
-- rallye instrument panel cluster

Special Note for California Cars:

In addition to preceding equipment. California cars will be equipped with California emission equipment. Also air conditioning (C60 or C65) is mandatory on California cars equipped with the W-30 package.

Interior Trim Combinations:

The following are required interior trims when W-30 is ordered.

Black Exterior:

-- Trim 28 - Camel Tan Lochland Velour
-- Trim 58 - Camel Tan Derma Grain Vinyl
-- Trim 50 - Black Derma Grain Vinyl

White Exterior:

-- Trim 28 - Camel Tan Lochland Velour
-- Trim 58 - Camel Tan Derma Grain Vinyl
-- Trim 57 - Oyster White Derma Grain Vinyl (Note: TA8 (Camel Tan) compaticolor interior trim appointments are recommended with white.)

Equipment not available with the W-30 Package includes a vinyl roof, paint stripe, paint scheme and any other option that would conflict with the equipment included in the package.

Paint Scheme is gold only and the paint stripe box should not be filled in on the order form.

Optional Body Side Moldings (B84) are: Black on black car. White on the white car. NOTE: B84 is not standard with this package.

Estimated production of the W-30 Package is scheduled to begin mid-February. This is limited production package so order yours today!